Basic Accessories for Mirrorless Cameras - Sony a6000 / a6300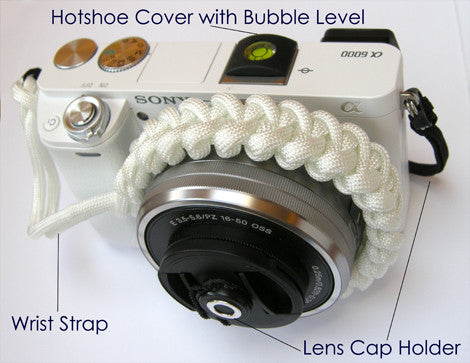 Cameras are smart devices with complex functions and delicate parts. So the first thing to do once you receive a new camera (DSLR, MILS, compact, etc) is to dress it with all necessary accessories for protection as well as convenience. These are for Sony a6000 (a6300 is very similar to a6000):
For Protection: Hot Shoe Cover Cap with Level (Standard Hotshoe Cover, Exact Fit Hotshoe Cover), Lens Cap Holder, Wrist Strap, Nylon Camera Bag, Faux Leather Camera Bag
Optical Glass LCD Screen Protector (Easy Installation of Glass LCD Screen Protector)
For Convenience: IR Wireless Remote, Wired RemoteControl (How to set up wired remote Sony a7II, wired VS wireless)
If you are concerned about the flimsy strap that comes with the camera, you can replace it with a DIY paracord strap. Military Grade 7-strand 550 paracord (3/16"/4.5mm) has a tensile strength of 550 pounds which is well above the weight of any camera. I guess it is suitable for the most expensive lens in the world (132 pounds). It is mildew resistant and dries quickly.
~10 ft paracord is required for ~16" strap. Make it with square knot/cobra knot, shark jaw bone, or any braid pattern you prefer.