Do You Need a Camera Strap - Neck Strap VS Wrist Strap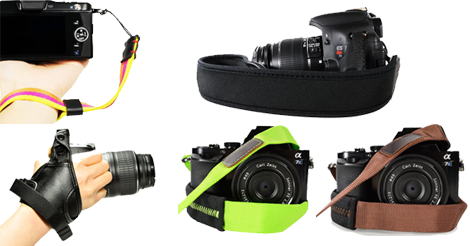 If you are going to carry your camera around, you will definitely need some type of strap to secure it. It can be a neck shoulder strap, a wrist strap, a camera bag with strap, hand grip, holster, harness, belt clip, or even a finger strap. If a camera only stays fixed and will never be moved around, a strap may not be necessary.
The main purpose of a strap is to secure the precious camera with its delicate lens-prevent it from dropping and transport it safely. A padded strap also provides some comfort if the equipment is heavy. Survival paracord strap is good for outdoor photography. Float strap is great for underwater photography.
Lastly, straps with artistic design add style and fashion ( such as scarf strap). Sometimes photographers find straps are not comfortable and they can get in the way.
To find the right strap, there are many things to consider: personal shooting style, size and weight of the camera, how muscular you are, what you want to achieve, etc.
The weight of a camera ranges from 200g to several kilogram (even heavier with lens). The most extreme is this 60 kg lens (The Most Expensive Lens with Unbelievable Size). Wrist or finger strap will be perfect for light weight camera, when not in use it can be put back in a small camera bag without taking off the strap. For heavier camera, a neck/shoulder is preferred so no strain risk for your hand. You can find the size and the weight of a digital camera with this Digital Camera Size Comparison Tool.
| | | | |
| --- | --- | --- | --- |
|   | Neck Strap | Wrist Strap | Finger Strap |
| Hands-Free | Yes | No | No |
| Anti-Theft | Yes | Yes | Yes |
| Multi-Camera | Yes | No | No |
| Security | Most Cameras | Small to Medium Cameras | Small Size/Light Weight Cameras |
| Length | Long (risk of tangling with other gear) | Short(no tangling) | Very Short (no tangling) |
Camera straps are like other camera accessories (wireless remote VS wired remote, camera bags, etc), and it's unlikely that just one will fit every situation. Most likely one works better in some situations than others. So the best solution is that two straps are better than one.
More reading:Lucky Green Camera Strap for Saint Patrick's Day Parade