Wireless Remote VS Wired Remote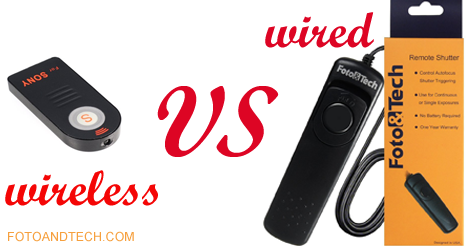 Both the wireless and the wired remote controls can trigger the shutter release without touching the camera so minimizing camera shake, but beyond that they have their own specific purposes. Each has its advantages as well as disadvantages.
 

Compatibility

Some cameras do not allow for the insertion of a cable release

Not all cameras support wireless shutter releases

Direction

Allows operation from any direction

Difficult to use from the side or back of the camera (How Infrared Remote Trigger Works)

Battery

No Battery Required-Powered by Camera

 

Needs battery (CR2025 5 PCS, 10 PCS)

Range

Most have shorter range

Good distance

Outdoor

 

The bright sunlight or strong IR source can overpower the IR signal

Contact

Contacts can be fragile, and the protection caps for them are easy to loose

No direct contact

Interruption

Concerns about tripping over the cable, tangling, or hiding the cable for selfie

Interrupted by anything between the remote and the camera

Size

Bigger

Usually small

Bulb Mode

Has the ability to lock down the shutter button for bulb mode, intervalometers, timers, etc

No

 
Wireless remotes work much better indoors or at night. Wireless works great for selfie or group photos.
Basically, these are two different tools, not substitutes for each other, and many photographers are happy to carry both in their bag.
More reading:
Why You Need a Cable Release for Bulb Mode
How Infrared Remote Trigger Works
How to set up IR wireless remote shutter release control for Sony A7II
How to set the remote control on Nikon D3300 D3200 D3000