10 Essential Photography Accessories While You Are Traveling in Holiday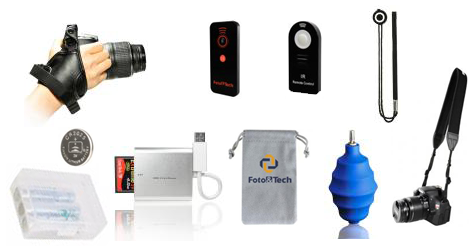 These handy nifty accessories can make your holiday trip more convenient, more enjoyable, and more worry-free!
Extra Battery
Never run out of power!
Battery Storage Case (AA/AAA Battery Case, Rechargeable Li-Ion Battery/AA/AAA Case)
Keep battery safe and organized.
Extra Memory Card & Card Reader (Black, Silver)
A backup is essential, never miss the opportunity to capture the beautiful scenes!
Keep memory cards safe and easy to find when you need it.
Dust Blower
As a non-contact method of cleaning dust, you don't need to worry about damaging the delicate parts of your camera or lens.
Additional convenience and security.
Provides comfort to your shoulder/neck and security to your camera.
Never lose a lens cap, keep lens protected!
More flexibility, more control, more stability.
    10.  Plug Adapter
Get power anywhere worldwide.
More tips: Summer Photography Ideas and Tips