Find a Must-Have Wrist Strap Hand Grip for Your Camera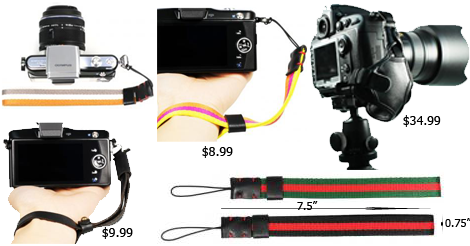 "A camera in hand is 60% more likely to be used than one that's slung by its strap, 85% more likely than one in a shoulder bag, and 98% more likely than one in a backpack."
-Metthew Piers
The best solution: when not in use, the camera with a nifty functional wrist strap stays in the camera bag worn in a cross body way, and it is securely attached to your wrist by the wrist strap when you do use it to capture something. Once you finish shooting, just put it back into the camera bag that you are carrying over your shoulder. In this way, the camera does not have to be dangling in front of your chest all the time which increases the exposure to dust, rain, water, and other potential damages.
There are reviews about "the best leather camera wrist straps". The priciest one is close to $90.
Here we offer quality wrist straps with simple comfortable designs at competitive prices for all compact cameras, mirrorless, SLR, or DSLR.
(1) Survival Paracord 325 Camera Hand Wrist Strap Camouflage $15.99
Mil-spec standard USA production and super quality. Hand made, durable and comfortable paracord wrist strap with 325 lb tensile strength for outdoor photography. Fits all wrist sizes, 15-16 inches in total length. Dries quickly, will Not Rot or Mildew.
(2) Four Seasons Series Multi-Color adjustable Wrist Straps for all compact cameras and most SLR cameras
4 varieties: Red/Green, Red/Black,  Gray/White/Orange, Yellow/Orange
The main portion of the strap is approximately 7.75" long and 0.75" wide.
Made with high-quality Knitted grosgrain and GENUINE LEATHER.
Price: $8.99
(3) Genuine Leather Wrist Strap for all compact cameras and most SLR cameras
The main portion of the strap is also approximately 7.75" long and 0.75" wide. Connect to camera with a ring, the strap is adjustable.
 Price: $9.99
(4) GENUINE LEATHER Hand Wrist Strap Grip for most Digital SLR cameras (Canon Nikon Sony Pentax Olympus etc)
Ergonomically designed, padded, solid, screws into your tripod mounting,  fits any hand size.
Price: $34.99 (1 Piece), $67.99 (2 Pieces), $97.99 (3 Pieces)
(5) Float Strap for Underwater Camera
This bright yellow float strap is light, comfortable, and durable. Ideal for Underwater Camera & Waterproof Case GoPro, Nikon, Canon, Sony,Pentax,Camcorders,Panasonic, Fujifilm, Keys.
Price: $5.99
These 5 types of wrist straps cover the needs for all compact cameras, point-and–shoot cameras, mirrorless cameras, SLRs, or DSLRs. I hope you find something you like for you next shooting adventure!
More reading: Do You Need a Camera Strap - Neck Strap VS Wrist Strap