How to set up IR wireless remote shutter release control for Sony A7R IV A7III A7R III A9 A7R II A7 II A7 A7R A7S A6500 A6400 A6300 A6000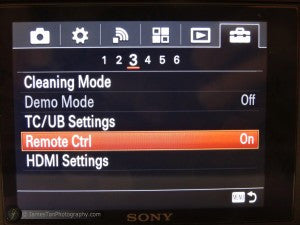 To minimize shaking, a remote control is often necessary in many cases such as macrophotography or astrophotography.
This Foto&Tech Infrared wireless remote control for Sony Alpha Series is small in size, easy to carry, and affordable. Powered by a CR-2025 3v battery, it works perfectly by transmitting infrared light signal to the camera.
Check out this video:How to Set Up Foto&Tech IR Wireless Remote Control for Sony.
First, let's turn on the "Remote Control" function of the Sony A7II camera. Go to toolbox manual number 3, scroll down to "Remote Ctrl". This function in the menu is dedicated to the wireless remote control. Make sure it is "on".
It triggers the shutter instantly without disturbing the camera, up to a distance of approximately 32 feet(10 m) in front of the camera. The lower button has a built-in 2-second delay.
This setting also works for Sony a6300, a6000. (Video: Sony a6300 foto&tech remote control)
If you are using the old Sony NEX, you will find that the remote control function is isolated from the drive mode (it is located together with other shooting mode in the older NEX series) and located in the menu. It is a good news because you finally can use the wireless remote control to trigger the continuous bracket shoot and other shooting modes.
All you have to do is point and click!
More reading: 
How to Set Up Wireless Remote Function with Nikon P900's Moon Scene Mode for Moon shooting
HOW INFRARED REMOTE TRIGGER WORKS
Wireless Remote VS Wired Remote
HOW TO SET THE REMOTE CONTROL ON NIKON D3300 D3200 D3000
How to Use Foto&Tech IR Remote Shooting HDR with SONY A7II, A7 ,A7R
Why You Need a Cable Release for Bulb Mode