Flash PC Sync Cable Cord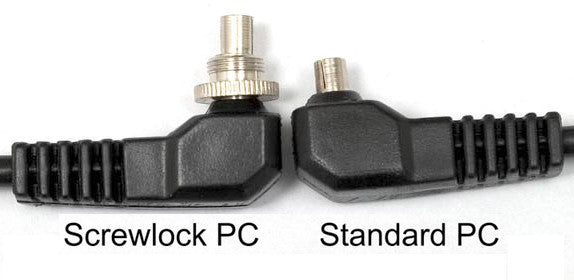 PC is still the extremely common flash cable cord connector on essentially all speedlights today. You may think it connects to a computer. Actually, the name PC (Prontor-Compur) is from 2 now defunct German shutter companies in the 1950s. A Prontor-Compur connection (PC connector, PC terminal, or PC socket) is a standard 3.5 mm (1/8") electrical connector used in photography to synchronize the shutter to the flash.
PC has one central pin and a surrounding barrel, the one pin is for Manual flash mode only. Some cameras or flashes do not have a flash sync port. There are inexpensive adapters for either the camera hot shoe or another type to the speedlight foot.
A flash PC Sync cord (from camera to flash) has male connectors on both ends. An extension cord is male to female. PC cables tend to slip loose easily. Some PC cables have screw lock which screws into threads on the socket to hold them securely. Screw-lock cable can fit into a non-screw-lock connector, or vice versa.
M-M Flash PC Syn Cable 14" Coiled      3.5mm-M Flash PC Sync Cable 5M/16FT
3.5mm-M PC Syn Cable 14" 1PC (2PCS, 3PCS)   M-M Flash PC Sync Cable 5M/16FT
The Screwlock PC sync connector is a variant of the standard PC connector.  The major improvement is that it has a screw-on locking collar around the central PC electrical connector. This locking collar greatly increases the reliability of the Screwlock PC connector over a standard PC connector.
The Screwlock PC connector is often referred to as a "Nikon Screwlock PC" connector, but it is used on a wide variety of photographic gear including Canon, Olympus, Minolta, etc. 
To use the Screwlock PC connector, push it in place like a regular PC connector, and then tighten the locking collar in place. It takes a bit more time than a regular PC connector to attach, but the added reliability is likely worth the additional time. You can also skip the locking part if you are in a hurry.
In order to use a Screwlock PC connector, the device to which it attaches must have an accommodating port.
Note that the space between the center electrical sync connection and the outside ring is much greater than on the standard PC connector. In addition, note the very subtle threads needed to lock the Screwlock PC collar in place, and that there is a recess to accept the longer center PC electrical connection.
Cameras with a PC port accepting Screwlock PC connector:
Nikon: D1, D1X, D1H, D2, D2X, D2Xs, D2H, D3, D3X, D3s, D4, D200, D300, D300s, D700, D800, D800E, and the Nikon AS-15 hotshoe adapter.
Canon: D30, D60, 10D, 20D, 30D, 40D, 50D, 5D, 5D II, 5D III, 7D, 1D, 1D II, 1D IIN, 1D III, IDS, IDS II, 1DS III, 1DX.
Fuji S5
Olympus E-1, E-20n, E-3, E-30, E-5, D-M1 OM-D
Sony Alpha 700, 850, 900, A77, A99
Konica-Minolta 7D, A1, A2, PCT-100 Hotshoe Adapter