Six Unique and Lovely Valentine Gifts for Photographers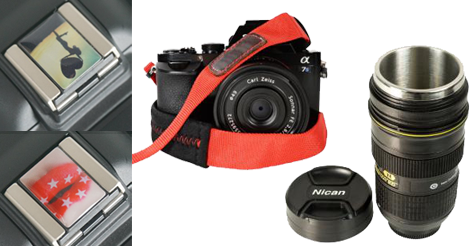 Forget about the chocolates, the roses, or the greeting cards! You can give something that is unique, inspirational, and helpful to the photographer you care about. They are not expensive at all, you can even make one of them by youself (the Bokeh Master Kit).
Exact Fit Hot Shoe Cover for Canon Nikon Sony Panasonic Fujifilm Olympus Pentax Sigma DSLR/SLR/EVIL
The small durable plastic cover cap protects your hot shoe from getting bent or damaged and helps to keep moisture and dust from the hot shoe.
Nikon and Canon Lens Coffee Mug
Nikon Lens Travel Mug 14.5 OZ [$18.99]
Canon Lens Travel Mug 11 OZ Black [16.99]
Canon Lens Travel Mug 11 OZ White [16.99]
Travel with these insulated mugs, they will keep your coffee warm or cold drinks cool.
Adjustable Padded Digital SLR Camera Strap
These adorable camera straps made with tightly woven grosgrain can be a great gift for a photographer. You can be sure your camera is safe with the strong material.
An Amazing photography Technique for Valentines day photos - DIY Bokeh Master Kit
Bokeh is the term for the out-of-focus areas in a photo, the blur achieved by using a low aperture value (aperture wide open), the foreground is in focus and the background blurred.  All you need is a piece of thick paper, a pencil, scissors, tape, rubber band, and a craft knife or decorative paper punch.
Waterproof Lens Bag
These well designed lens bags are for professional photographers with diffenenct sizes of lens.
4 pieces(S, M, L, XL) [$18.99]
Wireless Shutter Release Remote Control
1 piece [$9.99], 2 pieces [$13.99], 3 pieces [$18.99]
Wireless remotes for Canon, Nikon, Pentax are also available.
Take Selfies anywhere! No need to self-portraits in the mirror or at arm's length.
Hope these ideas can help you find the perfect Valentine gifts!