Rose Quartz & Serenity - Colors of the Year 2016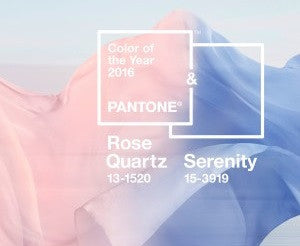 For the first time, Pantone chose two colors as 2016 "Color of the Year" which are a sophisticated pale pink and a light baby blue. 
Joined together, Rose Quartz & Serenity demonstrate an inherent balance between warmer embracing rose tone and the cooler tranquil blue, reflecting connection and wellness as well as a soothing order and sense of peace.
Popular objects with these two colors for photographers can be pink rose, cherry blossom, blue hydrangea, sky or cloud lit by sunrise or sunset, light blue snow or iceberg, clothing, cupcake, souffle sweets, etc. 
Color Of The Year 2018 — Ultra Violet & Photography Ideas