World's first medium format mirrorless camera – Groundbreaking Hasselblad X1D-50c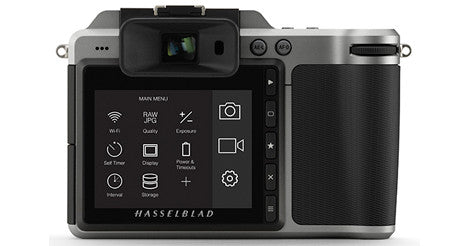 On 6/22/2016 Hasselblad announced World's first medium format mirrorless camera - the groundbreaking X1D-50c. The Hasselblad X1D is "handmade in Sweden" as the company states.
An electronic viewfinder is provided for viewing when sunlight is washing out the rear 3.0″ 920k-Dot Touchscreen LCD screen. There are also two SD card slots.
With its huge 44x33mm sensor (0.8x crop factor, 4:3 aspect ratio, ISO 100-25600 range), 16-bit color, 14-stop dynamic range, 2.36 MP electronic viewfinder (EVF), 2.3 fps continuous shooting speed, dual SD card slots, 3″ 920k-dot touchscreen LCD, built-in Wi-Fi, built-in GPS, an incredible leaf shutter capable of flash sync up to 1/2000th of a second. At diminutive dimensions of only 150 x 98 x 71mm (5.9 x 2.9 x 2.8 inches), this is truly innovative compared to its sensor and its throat diameter.
Size Comparison with Sony A6300
A 44 X 33mm sensor has a 55mm diagonal versus 43.3mm for full-frame. The sensor size of 44 X 33mm is 68% larger in area than a full frame sensor.
 It weighs just 725g with a battery. Including HD video, Wi-Fi, and built-in GPS, the X1D is great for travel. The small size can fit in the palm of your hand. With a robust dust and weather proof exterior, a super lightweight construction, it provides durability and portability.
With these amazing specs and a powerful 3200mAh battery (the Nikon D5's EN-EL18a is only 2500mAh), this camera is ideal for a variety of photography needs, including landscape, travel, architecture, and portrait photography.
Additionally, Hasselblad has also announced two brand new lenses specifically made for this compact medium format camera – a 45mm f/3.5 (~36mm full-frame equivalent) and a 90mm f/4.5 (~72mm full-frame equivalent).  Older Hasselblad lenses will have to be coupled with an adapter to work, which according to Hasselblad will be released soon, retaining autofocus capabilities. Hasselblad dubbed the X1D as "game changer" for a good reason – currently nothing on the market can compete with the above features at this price range.
The Hasselblad X1D-50c will retail for $8,995/£5,990/€7,900 body-only, which is surprising, considering that the sensor alone costs about half of the price of the camera and that Hasselblad is a luxury brand. A kit with 45mm F3.5 lens will cost $11,290, and bundled with both lenses the X1D will cost $13,985. The XCD 45mm F3.5 will cost $2,295 separately; the XCD 90mm F3.2 will cost $2695.
Related article: The Latest Compact Mirrorless Models-2016 (through Feb 2016)