Legendary Street Photographer Bill Cunningham Passed Away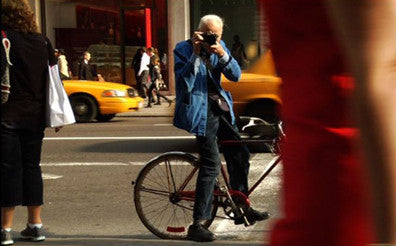 Bill Cunningham -The New York Times' street-style fashion photographer died on Saturday 6/25/2016 in Manhattan at 87 soon after being hospitalized for a stroke.
His two notable columns in the Times, On the Street and Evening Hours ran in the paper from February 26, 1989 until shortly before his death in 2016. For On the Street, Cunningham photographed people and the passing scene in the streets of Manhattan, often at the corner Fifth Avenue and 57th Street. Known for his candid and street photography, in 2009 Mr. Cunningham was designated a living landmark. He rode his bicycle through Midtown, where he did most of his field work: his bony-thin frame draped in his utilitarian blue French worker's jacket, khaki pants and black sneakers, with his 35-mm camera slung around his neck, ever at the ready for the next fashion statement to come around the corner.
His fashion philosophy:
Fashion is as vital and as interesting today as ever. I know what people with a more formal attitude mean when they say they're horrified by what they see on the street. But fashion is doing its job. It's mirroring exactly our times.
Related Coverage:
Bill  Cunningham on Bill Cunningham
What It Was Like to Be Photographed by Bill Cunningham