Sony's Most Compact Full Frame Camera - UMC-S3C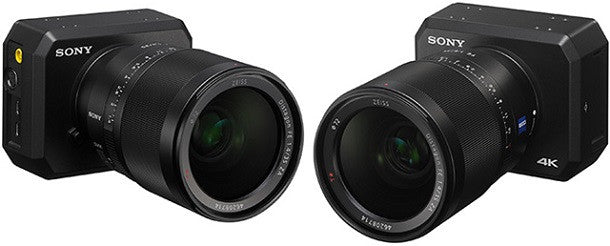 Sony Announced the Most Compact Full Frame E-mount High Sensitivity 4K Action Camera - UMC-S3C
On April 5, 2016 Sony announced the UMC-S3C which uses the a7S II full-frame Exmor sensor and offers the highest 4K sensitivity video recording. It allows users to capture details even in challenging low-light conditions. 
It is like a ultra-miniaturized α7S II with a full-frame 35mm 4K sensor, an interchangeable E-mount, and SD card slot for recording media.
The camera can achieve the highest sensitivity in its class – under 0.004lx the ISO expandable from 50-409600. Sony uses area-specific noise reduction that selectively divides images into areas based on patterns. Image quality is said to be further enhanced through detail reproduction technology, allowing clear and sharp video recording in near pitch-black environments beyond the capabilities of the human eye.
Being "the most compact camera in Sony's full-frame line-up", the UMC-S3C is very light and weighs approximately 400g. With mounting points on the camera body to enhance mobility, it attaches to moving objects easily. Users can control the camera via multi terminal, including micro USB compatible devices, remote controls or compatible software.
The UMC-S3C is suitable for a variety of applications including disaster response; wildlife monitoring; landscape mapping or surveying; surveillance, inspections and investigations; live camera; and as a dashboard/professional point-of-view ('POV') camera, among others.
Supporting multi-camera systems, the UMC-S3C fits into nearly any existing infrastructure and also allows playback functions with the use of a PC as well as Live View via HDMI.
Long-duration video recording is also possible as the camera is equipped with a memory card slot on the camera body instead of network cabling. With a 64GB memory card, users can record up to 125 minutes of 4K footage at standard quality (30 fps/60 Mbps). In 4K resolution, where images are four times more detailed than full HD, users can cover larger areas with the highest image quality.  The UMC-S3C also supports the XAVC S format for high-quality 4K recording at 100Mbps, especially useful in environments where cabling or space is limited. There is no mention of whether the camera can record 24 or 25p frame rates, or if it will be a world camera that lets you switch between NTSC and PAL.
Summary of features:
Full Frame 35mm Exmor sensor.

Image capture at under 0.004Lx, ISO from 50 to 409600.

Compact and light weight( 400 g/0.88 lbs).

High light condensing efficiency and an image processing engine to enhance noise reduction.

Sony E-mount for high lens change flexibility

Camera control via multi-terminal and micro-USB compatible devices, remote control or compatible software.

Memory card slot.

4K UHD at 30fps/60 Mbps.

XAVC-S codec expanding 4K recording to 100 Mbps.
Sony's UMC-S3C is planned to be available in the United States in August 2016.