Great Holiday Gift Ideas for Photographers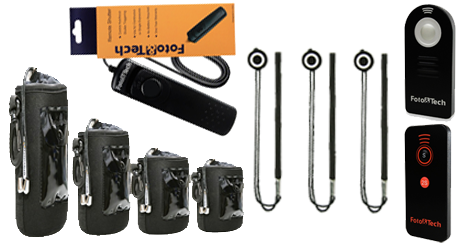 Holiday season is coming—Halloween, Thanksgiving, Christmas…. Do you have a family member or a friend who loves photography? Are you are trying to figure out what they want for birthday or holiday? Forget about the hundred-dollar backpacks or thousand-dollar lens, you may find the perfect photography gifts that fit your needs at an affordable price.

Lens needs extra care and protection. The 4-piece 5 mm extra thick waterproof lens bags can protect lenses different sizes (small, medium, large, extra-large). A photographer can never have too many lens bags!
2.  FTML-L3 Wireless Shutter Release Remote For Nikon D750, D5500, D5300, D610, D7200, D7100, D3300, D3000, D3200, D5200, D5100, D5000, D7000, D60, D80, D90, D600, Nikon 1 V3 + Velvet Bag (AMAZON) (Foto&Tech)
This works as a wireless shutter release that can trigger the shutter from a distance. So you will be able to take a self portrait, a macro, or a night picture conveniently!

This wireless shutter release is for Sony cameras, it comes with a nice velvet carrying bag.

It keeps your lens cap attached all the time. You will never lose track of your lens cap again!

A simple way to control exposure indoors or outdoors!
I hope you found this information helpful, and your friends and family will enjoy the gifts from you. Wish all your dreams come true in the coming holiday season!